Research Article
Putting a Nation on the Map
The Construction of a Geographical Imaginary through the Project for a National Atlas of Ethiopia, 1962–1987, comparativ 32(2), 2022.
Click Here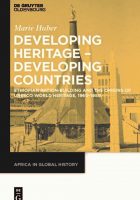 Developing Heritage - Developing Countries
In my first book, I write about Ethiopia's cultural heritage, and the politics of history and development that unfolded as they became UNESCO World Heritage sites in the 1970's.
Research Project
German Enterprises and Developing Countries
DFG-funded research project on foreign trade securitisation and economic security beyond the nation state. I joined the project in its 3rd funding period, taking into focus German economic relations with developing countries during the postcolonial period and the emerging international economic networks. 
Click Here